Holy Moly!!
HUGE thank you to But First, Fiction for the nomination! As one of my all time favorite blogs, I feel incredibly honored to have been nominated by them! Seriously, go check them out. Their poetry is a GIFT and so are they. 🙂
Here are the rules for the Versatile Blogger Award:
Thank the person who nominated you
Leave a link to their blog
Tell us 7 things about yourself
Nominate 15 bloggers/bloggers you've discovered recently or follow regularly
I'll try to make this a list of things you may not know about me, but be ready, because you guys are about to meet the kittehs.
Seven things about me:
1. I. Love. Cats.
I love all animals. I mean all of them. I see road kill and cry. I will always cry in a movie when an animal dies but I'm less inclined to cry when a human character dies. (Make of that what you will.) But this love affair started with my roommate. She found our oldest cat, Poopie, as a kitten in the woods who didn't look like he was going to make it. But he did and he's the sweetest, most laid back cat. We soon learned Poopie had separation anxiety and we got him a sister, Rhaella. My husband found our youngest kitty in the Ford mechanic shop he works in! Poor Finn had been shipped from who knows where in a giant crate with an ENGINE. They've all come a long way and I love them all so fiercely.

2.I love Star Wars (but was first a Trekkie)
Before anyone raises their pitchforks and comes after me, just know that I still love them both BUT, Star Wars takes the cake. I had never watched Star Wars until my husband introduced me to the movies. Back when we were dating, he sat me down and made me watch all six episodes. I grew up watching Star Trek. William Shatner was my hero and I loved how dramatic he was as Captain Kirk. The newer Star Trek movie with Chris Pine was actually Jacob and my first date! He took me to see it in 3D IMAX because he knew how much I loved Star Trek. Little did I know, I'd be nerding out on Star Wars soon. Favorite character? Definitely Boba Fett. (Vader is a close second) Jacob prefers the rebels and yes, I'm a fan of the dark side. We are a house divided.

3. I went to nursing school.
Yup. It's true! I wasted my parent's hard earned money on a profession I would later decide wasn't for me. Honestly, I was loving it at first. I even enjoyed 12 hour days. But I grew too attached to the elderly. I LOVE old people. But I hated seeing them go. I threw around a few other interests as I went but no profession within the schooling I had received seemed like it was for me. I do think about going back all the time. I'd love to do something in the psychology field. I've also always been fascinated by mental illnesses. Maybe one day.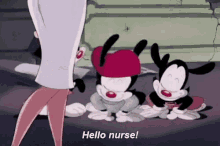 4. I'm an only child
I've got no siblings! My husband does have a brother and he's the coolest, most fun brother-in-law I could have ever asked for. I always wanted my parents to have another but they claim I was such a calm, quiet, effortless baby that they were afraid the second would be the spawn of the devil.
5. I have been diagnosed with anxiety, borderline bipolar disorder, OCD, and PTSD.
When I originally started this blog back in 2017, I intended it to be a blog about just that. I wanted to help people through their struggles the way my dad helped me. I have a tiny book he helped me write. I call it, "The Book of Understanding." I've since moved it to a bigger journal. But I'm happy to say I have minimal attacks now and when I do I'm able to calm myself. I hardly ever have to write in my journal anymore. 🙂 So anyway, in the front it gives you questions to answer about yourself. The goal is to find out why you're having the problem. We found a lot of my triggers and the book was a way to remind me of those triggers so I could pick out what was wrong. Back between 2012-2016 I was having anxiety attacks like crazy. I couldn't even tell you how many I would have in a week. When my husband and I were dating, he would deal with me coming over to hang out but getting in his bed and taking a nap instead. I think back on those moments and I appreciate him SOOO much for letting me heal and helping me through everything instead of getting frustrated with me or shaming me. Mental illnesses really suck and if you're reading this, know that I am always a message away. Holla atcha girl. I'll help as best I can.

6. I'm a gamer.
You may already know this if you follow my instagram account but I'm a pretty avid gamer. As a kid, I had the original Nintendo, then we got the Nintendo 64, then I got a PS2, then my dad bought me the original XBOX. I had a GameBoy Color that my friend and I would play Pokemon on wherever we went. We had that link cord so we could trade and battle… but he never traded me anything good… hahaha. I ended up getting a DS and then a 3DS when those came out. I graduated to the XBOX 360 and was up all night every night playing the latest Modern Warfare or Call of Duty games with my friends. But my soft spot is for Halo. I've been a fan since the first one. I've beat the first three games more times than I can count and just the music alone is so nostalgic for me. My husband recently bought me the Master Chief Collection and the fact that you can toggle to the old graphics makes my heart sing! I had an XBOX up until 2011 when my boyfriend at the time converted me to PS3. I had some good times with my PS3 and even the PS4 my husband got me for Christmas the year before last but I've recently gone back to my roots. I got myself the XBOX One S and I don't think I'll ever go back. Lately I've been playing Elder Scrolls Online, Black Ops 4, Star Wars Battlefront 1&2, World War Z, Friday the 13th, Left for Dead 1&2, Borderlands 1&2, and the Halo Collection. I also bought the Spider-man game for my PS4 and I highly recommend. It's amazing!

7. David Bowie is my all-time favorite person.
I was so devastated back in January of 2016 when he passed away. David Bowie is my favorite, guys. My husband saw the news before I did and was AFRAID TO TELL ME. My obsession really started with the movie Labyrinth. Mind you, I was a fan of his music before I laid eyes on the movie but the movie sealed the deal. I have lots of David Bowie stuff. Vinyl records, jackets, shirts, pins, wall art… I'm a fanatic. The man was such an icon. He played almost every instrument known to man. He wrote his own stuff. He was a true musician. He was also a beautiful soul. The queen wanted to knight him and he refused saying, "I seriously don't know what it's for." That, in itself, made me love him so much. I have two of the biographies written about him and every time I learn something new about him, I like him even more. He had his moments back in the 70s and 80s but he came out a wonderful man, husband, and father. RIP to the Starman in the sky. May his music and his mark on the world FOREVER live on.

Well guys, that's me! Thanks again to Hannah and Kyle for the nomination! You guys are seriously the best.
A lot of my favorite blogs have already been nominated (as they should have been) but there are a few I'd like to mention. If you've already received this award, don't mind me! I just think you're extra awesome!
If I nominate you and you don't want to do the post for this, seriously, no pressure. Just know that I love your blog and wanted to nominate you so others could see your awesome blog too. 🙂
I'm nominating:
Kristin @ Kristin Kraves Books
Autumn @ Chapter Malliumpkin
Asha @ A Cat, A Book, and A Cup of Tea
Anna@ A Wondrous Bookshelf
Sara @ The Bibliophagist
Jenn @ The Bibliofile